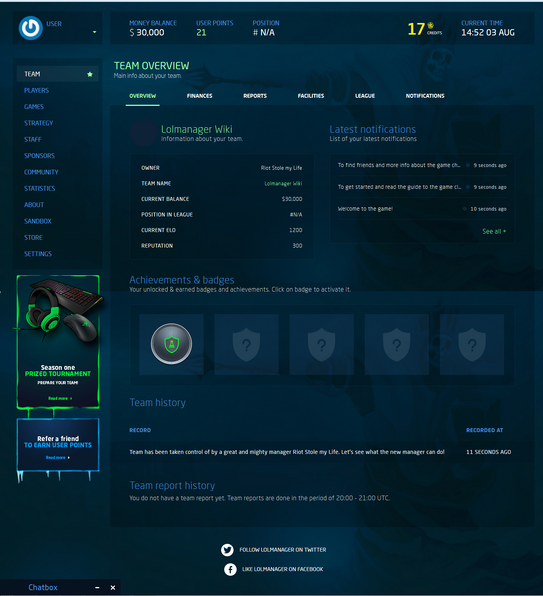 This is the landing page when you enter the game, it shows a bit of general information about your team.
This tab shows your finances, current balance, predicted balance, predicted expenses and predicted income. Note predicted expenses and Income is based off your teams previous day's expenses and income. It will not account for any changes you have made since.
It will also show a report of the last few changes to your balance.
Team reports are generated every day at the daily update and show your position verses other players in several key areas.
Facilities are purchasable upgrades for your whole team. They provide various team benefits but also have an initial cost and maintenance cost.
The 4 facilities available are
Gaming Gear
Gaming House
Sleeping Area
Utilities
This is where you can view the league you are in. There are 10 teams in a league and it's a double round robin where every team plays the other team twice. If a team reaches the top of their division at the end of the season they get promoted to the next division. There are 7 divisions that funnel into a single top division.
You gain a prize for winning League games, at higher divisions you also gain a smaller amount for losing as a standard fee.
This page will show any recent notifications for you or your team, it will show up to 10 notifications per page. You can receive notifications for playing matches, receiving coaches, players gaining stats through training, replies to a forum topic you've posted, applications to your club, friend requests, personal messages and important game announcements.