The market also known as the player market or the transfer market is only way to legitimately sell a player in Lolmanager. The market shows all the players currently being sold, it lists the name of the player, what the current bid is, how many bids have been waged on them and all the role stats about them and their ELO.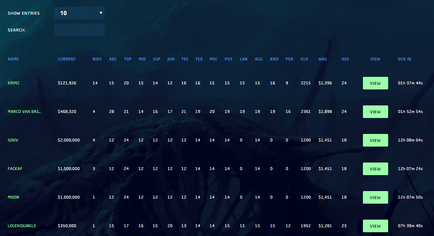 It also lists the wage, who is currently winning the bid and how much longer the player is up for auction. You may also search for a specific player name and choose to show up to 100 players at once.
You can list a player on the market in the YOURS menu under show more info about this player. You set the starting bid at any number you want between 100 and 100,000 and players must bid on it, auctions will last twenty four hours. Players may keep bidding until time runs out, however if any bid is made when less than fifteen minutes remain, the clock will reset to fifteen minutes. This is in effort to discourage sniping, but generally makes auctions last longer than twenty four hours. Once the auction is over, the player who listed the player will get the full amount bid on the player and the winner of the auction will receive the player and have the bid amount deducted from their Money Balance. You can get more detailed information about the player and bid by clicking on the View button next to the player you wish to view.
You must have 1 slot available on your roster for each bid you have active.
View & Bid
Edit
Here, you may view detailed information about the player and set your bid. This screen lists all the player stats to two decimal places instead of whole numbers like on the market, and tells you who owns the player, and who currently leads the bids. You may choose the amount you bid yourself, but the bid must be at least 4% higher than the previous bid - the minimum bid is stated under the current bid and is the default bid amount. This is the avoid players messing with the system by increasing bids by $1. Under no circumstances are you allowed to use an alternate account to bid on your players, doing so is a punishable offense. if you suspect someone else of doing this you can report them on their user profile or team view.