MobaManager
Edit
MobaManager, sometimes referred to as LoLmanager is a text-based management simulator based on running your very own MOBA team. The first things that you do are that you create your team, name your five starting players, and assign them to their roles. Afterwards, you will be able to train, buy, and sell players, create and perfect your strategy, contract sponsors, hire coaches, and participate in games, which are played after the daily update.
For Editors
Edit
This Wiki is still under development; if you wish to help with building it, please see the Development log.
The overall goal of this Wiki is to provide information to players as well as an explanation into how features are used. Information that is directly availabe from the game such as the cost of sponsor slots is welcome, however analysed and processed data such as the rate of player training is not. If the information is available in a patch notes from the developers it is welcome in the wiki page.
We are looking for volunteeres to help fill out the missing pages and keep the Wiki up to date.
About the game
Edit
About the game
Lolmanager is a browser-based manager game similar to Hattrick, Managerzone, or Csmanager. However, instead of being about football or other sports, this game is about League of Legends.
About us
Our team currently consists of 4 really dedicated guys all working together to develop a game that hopefully will be loved by thousands. Although we're working during night time after work and trying to get this game released in a short period of time to the public. We're putting into this project as much as time we have free so please be patient.
Latest activity
Edit
Photos and videos are a great way to add visuals to your wiki. Find videos about your topic by exploring Wikia's Video Library.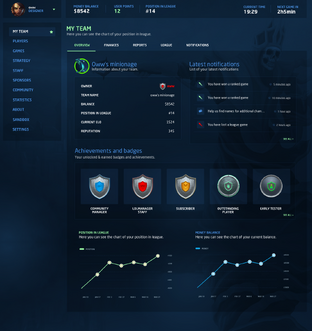 Community content is available under
CC-BY-SA
unless otherwise noted.